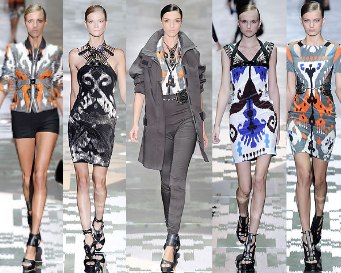 Ethnic Clothing from Gucci. Yes. there is not ikats from Jepara. But Jepara can do like this.  Jepara in Troso can make whatever ikats design, but we have no designer like GUCCI and we have no publication. I think Ikats design is good potention to be artistic fashion, and can be high class products.
There is evidence that ethnic can merge with modern style.
Woven technique of the cloth is traditional. Motifs is also traditional, but more big, zoom. usually traditional motif in Indonesia ikats is never as big as models wear.
Different one of the Gucci motifs and indonesian ikats is color. Traditional color is black, brown, yellow. But brown is dominant.
There is video how to make ikats in Indonesia.How to make Ikats